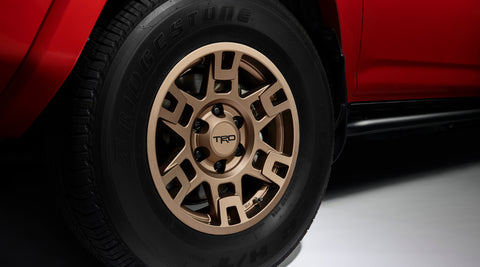 If you want the best driving experience. There is no other choice than Toyota TRD wheels. These wheels, and the vehicles they're on, get sent onto test tracks and into the desert to make sure they deliver on every promise TRD makes. That is far beyond what any after-market wheel maker could deliver.

TRD accessories aren't just made to fit your Toyota. They're made for your Toyota. Right down to the wheels.
Toyota TRD wheels are precisely engineered to provide optimal weight, offset and brake clearance to help ensure they not only look great, but provide proper fit, finish and reliability.
TRD Engineers study the original design criteria for each vehicle and utilize state-of-the-art CAD design techniques to create the optimal wheel. TRD wheels are generally made of aluminum alloy and are lighter, dissipate heat better, and provide proper rigidity under high-load cornering maneuvers.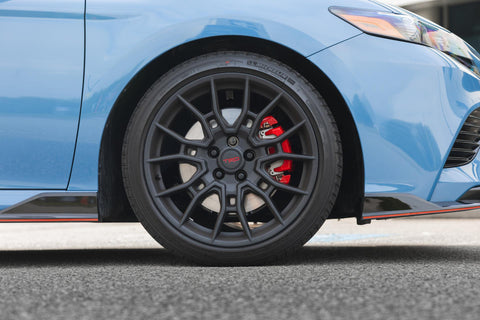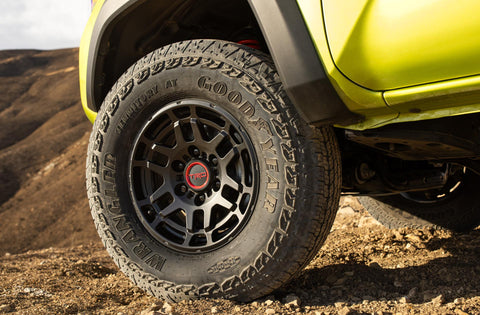 TRD wheels are designed to optimize strength to weight ratios by putting the aluminum material in the right place to maximize the wheel construction. Reducing unsprung weight reduces the amount of inertial weight at the rotational axis. The less weight, the easier it is for the engine to turn the wheel and the easier it is for the suspension to control wheel and tire movement.
We carry genuine 17" TRD Pro Wheels in matte black or matte grey